I found this great set on amazon that comes with easel, brushes, paints, canvasses and more! Great for beginners starting their own painting practice.
Perfect for Beginners and Professionals – Comes complete with all the necessary tools for a beginning artist all the way to a veteran. It contains most art supplies for acrylic painting, includes aluminium table easel, stretched canvas, canvas panels, acrylic paint tubes and paintbrushes etc.
Sturdy Tripod Easel – The aluminum table top easels come preassembled. Lightweight and collapsible, three-legged structure will hold your painting steady. You can carry them everywhere for your workshop or display purpose.
All Excellent Quality – The 15 paint jars came in a sturdy box(100ml /3.38 oz)great volume for the price. Smooth, lightfast and non-toxic. 12Pcs acrylic paintbrushes are soft, flexible. 3PCS canvas panels, stretched canvas and acrylic paper are 100% pure cotton made, acid-free, archival quality. Extra wooden palette, plastic palette and knife set, mix wheel.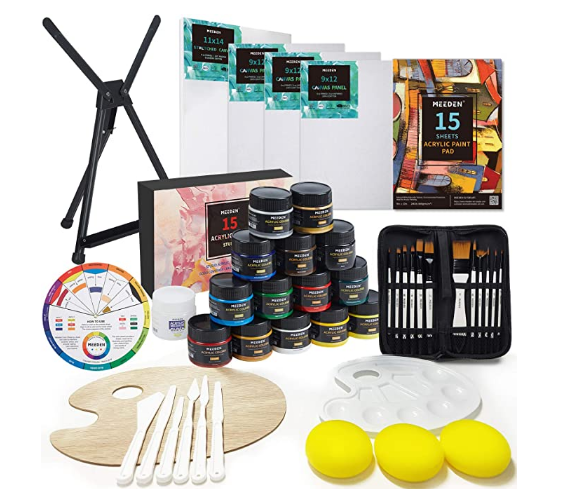 ---
London Ontario Area
For those of you in the London Ontario, I purchase my supplies at Bijan's Art Studio or Curry's Art Store
---
Floral Stencils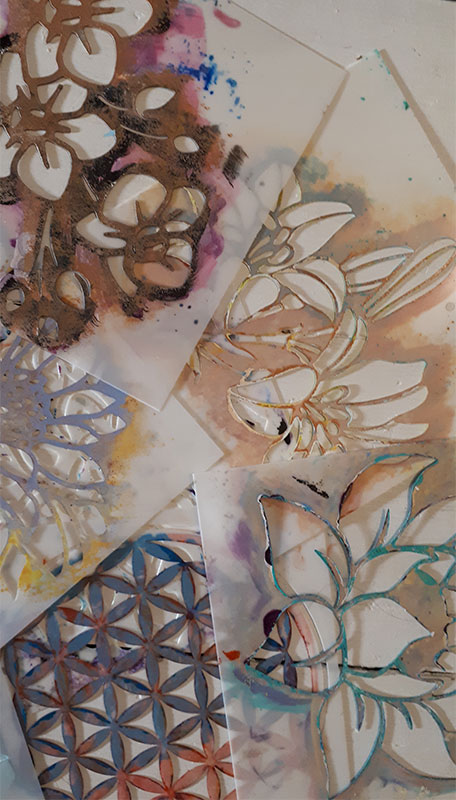 I like using these Floral stencils I ordered from Amazon. 6 X 6 inches
🌻 VARIETY OF FLOWER STENCILS: Take your DIY craft décor projects to the next level with these beautiful flower designs – lotus, rose, dahlia, lily, sunflower, orchid, mandala, fleur de lis and a tree of life; measuring 15.2 x 15.2 cm / 6 X 6 inches.
🌻PREMIUM QUALITY- Our stencils are made out of the high quality .25mm PET translucent material that is also food and dishwasher safe.
🌻 DURABLE AND REUSABLE – Due to the high quality of our stencils, they are ideal for repeat usage and can last for years. Use, wash, rinse, repeat
🌻 WIDE APPLICATION USAGE – Made from eco-friendly material that have the ideal flexibility for painting on most surfaces including wood, fabric, walls, canvas, floors, furniture and more

BUY FROM AMAZON
---
You, of course, want as much sacred symbol energy as possible, right? Yes! Whenever you are feeling low energy, stressed, anxious, or just apathetic, look at your Artual Stencils and allow the one that you need to speak to you. Bulk Package – (6) 5 x 7 Stencils + 1 NEW stencil included in the set now for free. It is the "Freya Knot" stencil. A symbol of union and our connection to the infinite.